Even More Philly TV & Radio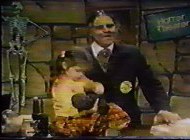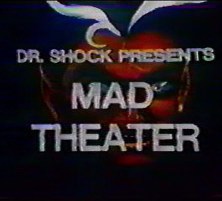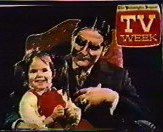 Dr. Shock (Joseph Zawislak), seen here with daughter Doreen as "Bubbles", first aired in 1969 on WPHL ch. 17. Zawislak, a former insurance salesman and magician, created the character based on the former Philly horror movie host "Roland", with permission from Roland himself, John Zacherle. Scream-In originally lasted only 13 weeks on the air, but returned after an onslaught of phone calls and letters from upset viewers, and even a protest march. Scream -In aired on Saturday nights from 1969-72, and Mad Theatre and Horror Theatre aired on Saturday afternoons from 1969 to 1979. (Mad Theatre was the first film of the double-feature, and Horror Theatre was the name for the second part.) The shows featured Dr. Shock performing magic tricks, acting like various characters, and playing jokes and gags on guests. His daughter, as "Bubbles", opened the show by knocking on his closed coffin to wake him up, and he always closed with his famous tag line, "Let there be fright!" Dr. Shock was very popular during his run, making many personal appearances with his personal Hearse, and people lined up for city blocks to see him. Sadly, Zawislak passed away in September, 1979 at the age of 42.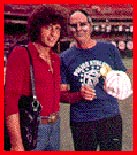 Dr. Shock with Giant Gene Arnold at the Vet
Giant Gene Arnold shares this memory: "I used to guest with him frequently, and he guested on some of my shows. One Halloween, we broadcast live from a cemetary at midnight on my "Giant Gene's Electric Scene" program. What a talent!" (Special thanks to Giant Gene for the photo and personal input)
Elaine (Fisher) Manning with Dr. Shock at the Trenton State Fair, 1975
Elaine Manning just might be the ultimate Dr. Shock fan! In fact, she invites her fellow fans to email her at
elaine1975@aol.com
and share their Dr. Shock memories.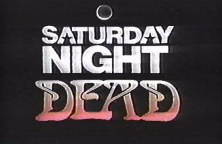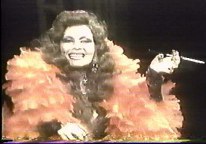 "Saturday Night Dead" starred Karen Scioli as Stella, "that maneater from Manayunk," and like the name implies, aired on Saturday nights on KYW ch. 3 at 1:00 from 1984 to 1990. Each week Stella introduced a "B" horror movie, and performed bizarre skits with her sidekicks Hives the butler, Iggy the dungeon monster, and Beda Lugosi, her talking and vibrating bed.
Did you know that..............
..."Wee Willie" Webber stands 6 feet 5 1/2 inches tall?
...Joe Niagara entered the Guiness Book of World Records in 1980 for playing over 500 consecutive versions of "Stardust?"
... John Facenda can sometimes be heard on the castaways' radio on Gilligan's Island?
... Sherman Hemsley (a.k.a. George Jefferson) was a
mail carrier in Philadelphia?
... Peri Gilpin of Frasier (Roz) is Jim O'Brien's daughter?
...The radio ad for the Melrose Family Restaurant ("Everybody who knows- goes- to Melrose") began airing in 1965, and is the longest-running broadcast ad in the U. S.?
...Pete Boyle was the father of actor Peter Boyle
(Young Frankenstein, Everybody Loves Raymond)?
...Don Cannon (WIBG) can be heard in the original Rocky film?
...Gene Crane played the mayor in Rocky III, and
appeared on Friends?
...Jerry Blavat appeared on The Tonight Show, The Monkees, The Mod Squad, and in the films Baby, it's You, and Desperately Seeking Susan?
...Dick Clark got his Philly start on WFIL in 1955?
...The first movie to be shown to a theater audience was in Philadelphia on Feb. 5, 1870?
... From November 27, 1974 to 1994, Bill Corsair's show on WCAU-AM held the world record for responses to a radio show, with 388,299 attempted calls?
... Giant Gene Arnold was fired from his 1970 national radio show for helping to create Earth Day?
Memorable Local Commercials
*(I'm hoping to find images and sound clips from these; I'm not willing to sing the jingles myself on this site.)
If you watched local programming in the 70's and 80's, you'll never forget these, because they were on ALL THE TIME!
~ "Hi! The boss' daughter for Atlantic Transmissions!"
~ "Is it Franks? Thanks!"
~ "Big Marty--really does--sell carpet--cheaper."
~ "If you've got a passion for fashion, and you've got a craving for saving, take the wheel of your automobile and swing on down to... IDEAL!"
~ "Doors Unlimited. Unlimited do-o-o-ors (slam) .
~ "...where saving money starts, at Jimmie's Used Auto Parts!"
~ "If you didn't buy your suit at Krass Bros..." (Store of the Stars!)
~"...and remembuh, Wednesday is Sundae at Carvel"
(Cookie-puss, Fudgie the whale, Thinny-Thin)
~ "Hey! Where did everybody go?"
"They've gone to Betson's (Furniture)."
~ "You'll love it at Levitz!"